Product Name:
BW-300 Urine Analyzer / urine strip reader
BIOWAY URINE CHEMISTRY ANALYZER- BW-300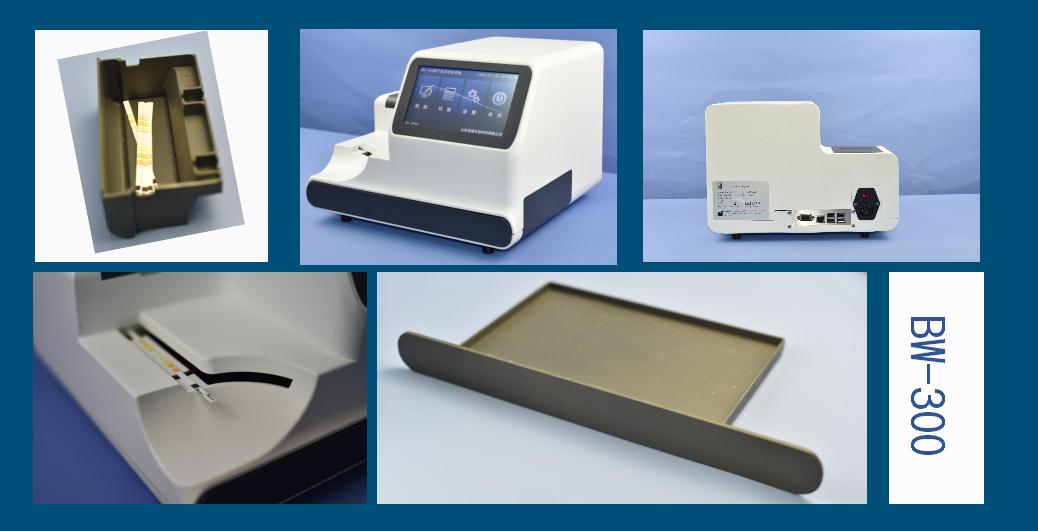 BW-300 Specification
●Measurement principle: Artificial intelligence + computer vision technology
●Scope of application: 10, 11, 12, and 14 parameters test strips compatible
●Test items: Glucose (GLU), Bilirubin (BIL), Ketone (KET), Specific gravity (SG), pH, Blood (BLD), Protein (PRO), Urobilinogen (URO), Nitrite (NIT), Leucocyte (LEU), Ascorbic acid (VC), Creatinine (CRE), Calcium ion (CAL), MAL
●Data storage: Large-capacity memory. Can store millions of test results, can query the test result according to the record numbers
●Display: 7-inch large screen display, touch operation.
●Peripheral: Reserved RS232 interface, WIFI, network interface, external urine sediment analysis system, hospital management software (HIS, LIS)
●Voltage: AC 100~240V ± 10%, 50-60Hz, safe and reliable
●Test speed: 514 samples/hour
●Printing method: Built-in high-speed thermal printer
●Working Environment: 15-35 °C, Humidity <85 %
●Power: 20VA
●Weight: <5KG

★. Using embedded LINUX operating system, have powerful data processing functions, the accuracy and repeatability of test results are further enhanced, and the instrument functions are more powerful.
★. Latest cutting-edge computer vision artificial intelligence, more accurate and more reliable.
★. Test strips LOGO recognition, can better control the test strip manufacturers and batches.
★. Traceability, each test results are photographed and archived for user review.
★. The ambient temperature monitoring system to reduce the impact of the laboratory environment on the test results.
★. System upgrade function, users can experience the latest software support synchronously.
★. Can professional customize any manufacturer and communication protocol, direct transmit data to LIS, HIS, urine sediment and other systems.
★. The reserved network interface can upload the test result to cloud and provide big data service.
★. Lower cost, better quality, affordable high-speed urine analyzer.
---
CONTACT US:

Tel: + 86- 516-87989109

E-mail: sales@bioway.com.cn