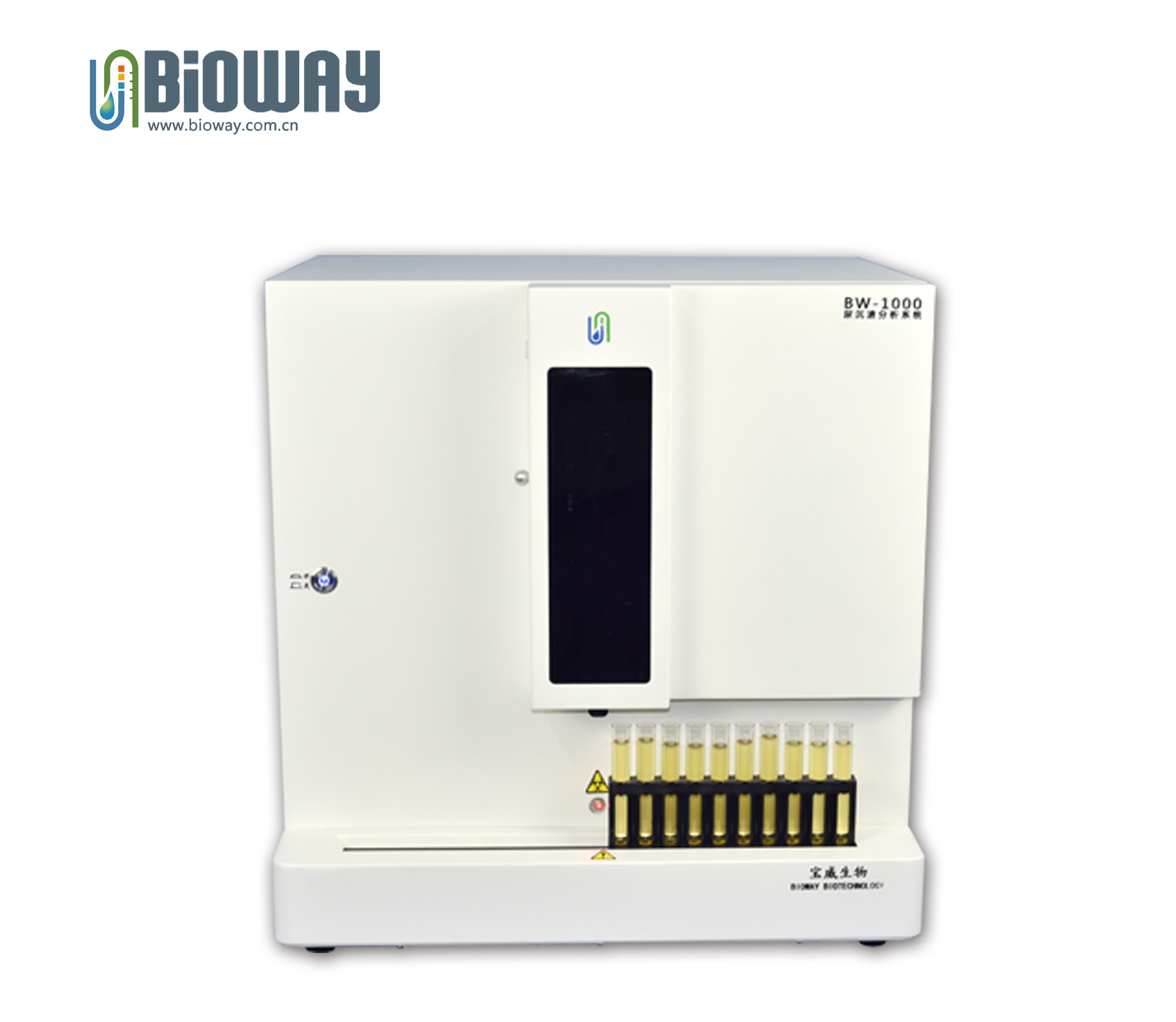 Product Name:
BW-1000 Urine Sediment Analysis System
BIOWAY URINE SEDIMENT ANALYZER BW-1000

BW-1000 SPECIFICATION
Inspection principle: Using machine vision technology: automatic identify, classify and count the formed elements in urine with microscope automatic morphological methods.
Test items: Red blood cells, white blood cells, pus cells, squamous epithelial cells, non-squamous epithelial cells, transparent casts, unclassified casts, crystals, bacteria, blood bacteria, sperm, mucus, etc.
Test speed: 30 samples/hour.
Detection mode: The microscope counts and classifies target identifications such as red blood cells, white blood cells, and crystals.
Sample quantity: Minimum urine volume 2ml, minimum injection volume 0.5ml
Sample processing: The sample can be directly tested without centrifugation.
Injection method: Automatic trail injection, 10 samples on the machine at the same time.
Accuracy: more than 95% (Artificail auxiliary judgment).
Repeatability test: CV < 10%
Carrying pollution rate: < 0.05%
False negative rate: < 3%
Report form: xx unit/ul, HPF&LPF etc. international universal quantitative unit, comprehensive graphic report of dry chemical analysis and urine formed elements quantitative analysis
Dimensions: 520mm x 440mm x550mm (length x width x height).
Net Weight: 15kg
Data Interface: A full set of computer data interfaces, can connect to dry chemical urine analyzer, printers and networks.
Power Requirements: AC 220V土10%, 50Hz
Standard configuration: Computer,including screen,mouse,keyboard
---

★ Product characteristics
★ Automatic trail injection, walk away, 10 samples on the machine at the same time, simple operation.
★ Dedicated focusing fluid can be used to automatically calibrate the focal length of the microscope to ensure clear and complete sample capture.
★ Samples do not need to be centrifuged and pretreatment, and sample injection, mixing, sampling, and precipitation are performed automatically.
★ Automated target recognition and classification counting of acquired images; high-precision charge counting cell ensures accurate and stable
detection of specimens, consistent conditions, standardized test results, high-precision sample sucking needles, tubes, and valves to ensure highly
stable piping systems;
★ The efficient automatic cleaning function effectively cleans the inner and outer walls of the sampling needle and the pipeline to
avoid cross-contamination;
★ Have self-learning function, the longer the usage time is, the higher the recognition rate is. It can be connected with urine
analyzer and provide comprehensive reports on dry chemistry and sediment.
---



CONTACT US:

Tel: + 86- 516-87989109

E-mail: sales@bioway.com.cn