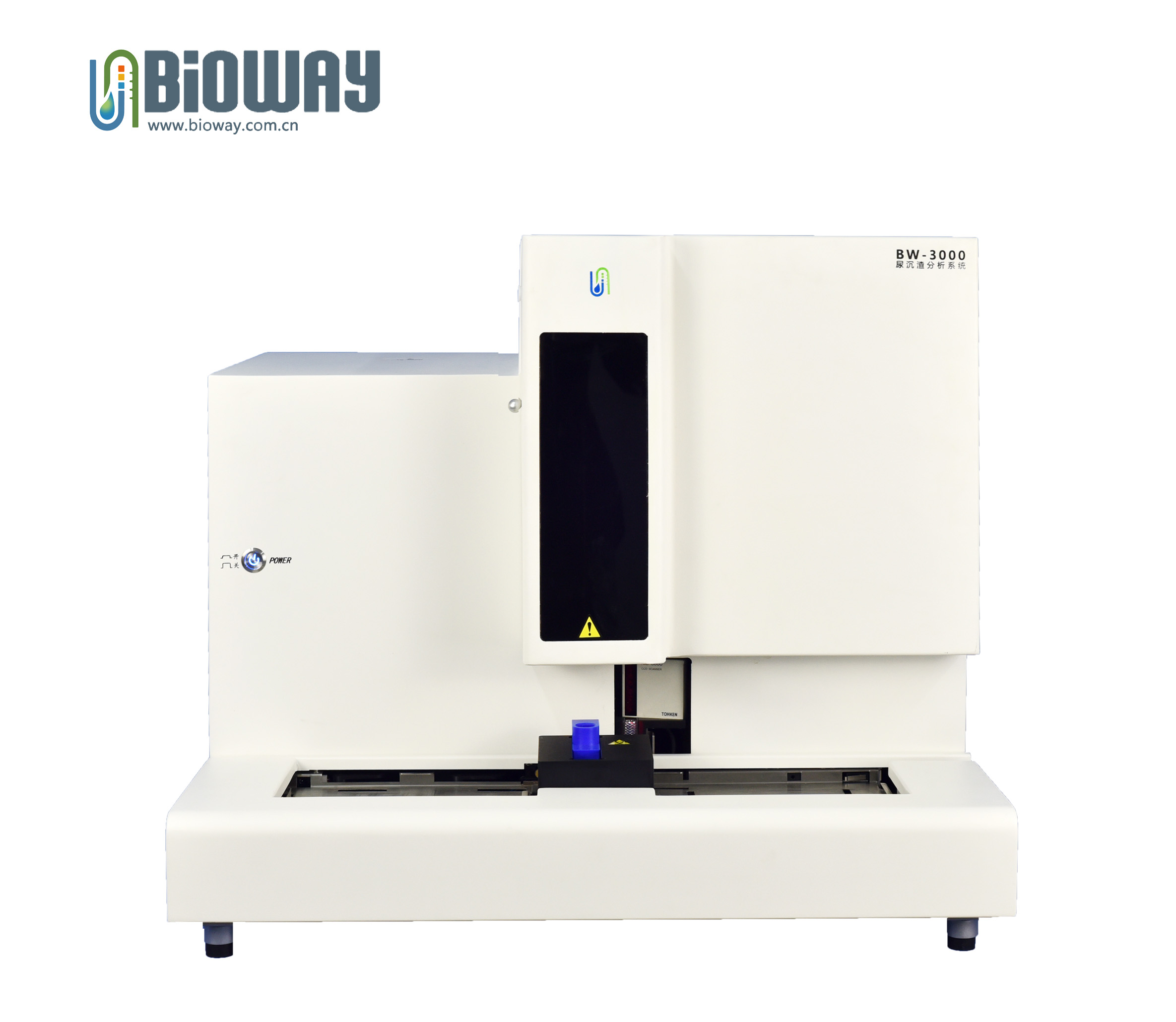 Product Name:
BW-3000 Urine Sediment Analyzer
URINE SEDIMENT ANALYZER BW-3000
● Test items: red blood cell, white blood cells, pus cells, squamous epithelial cells, non-squamous epithelial cells,WBCC, transparent casts, unclassified casts, crystals, bacteria, blood bacteria, sperm, mucus and etc.
● Principle: Flow cell technology, medical image information fusion technology, machine intelligence visual recognition technology
Flow counting cell Four-channel quantitative flow counting cell
● Specimen Minimum volume:3ml
● Detection speed 120-150 samples/hour
● Aspiration 1 ml
● Sensitivity<5 cells/ul
● Recognition rate > 95% artificial auxiliary judgment
● Repeatability Test CV < 10%
● Carrying pollution rate < 0.05%
● False negative rate < 3%
● Data storage 200000
● Languages Chinese, English or language set according to user's requirements
● Report form XX/ul & HPF international common quantitative units, comprehensive graphic report of dry chemical analysis and urine formed elements quantitative analysis
● External printer
● Working environment Temperature 15°C-35°C, Relative humidity ≤75%
● Power supply AC220V ±10% 50Hz
● Dimensions (mainframe): 660mm × 440mm × 570mm (length × width × height).
● Weight About 33kg

★ Working principle
Use flow counting cell, medical image information scanning technology and machine vision visual recognition technology to automatically position, track, scan, identify, classify, count and analyze the urine formed components.
★ Sample injection system
Fully automated orbital 10-tube specimen rack automatically senses continuous sample injections, and the sample area to be tested can accommodate 60 specimens at a time.
Automatic specimen scanning and positioning, real walk away, no centrifugation, directly test with original urine, automatic suction and mixing.
★ Flushing system
Use high-precision, PTFE-plated sample-sucking needles to make the cleaning of the instrument pipeline more thoroughly and cross-contamination is eliminated as much as possible.
Industry's highest 4-channel design
Single-needle 4-channel sampling design, the instrument has a channel to detect other channels settlement, cleaning function, to save the test time to the maximum, equivalent to 4 sets of instruments in the test, and fully guarantee the speed and efficiency of the specimen detection.
★ Self-learning function
The target of instrument misidentification is modified by the operator. After training, it can be stored and automatically modeled.
Automatic focusing function
After the instrument is used for a period of time, special focusing liquid can be used to automatically correct the focal length of the microscope to ensure clear and complete sample shooting.
---






CONTACT US:

Tel: + 86- 516-87989109

E-mail: sales@bioway.com.cn